The new Amazon echo is just too cheap to resist. It is better than its competitors for the core features that we use such a device for. Amazon is built for e-commerce and the Amazon echo is perfectly aligned with this. This new device for home or kitchen is used in other ways than traditional devices and Amazon is just better positioned to succeed with this type of product.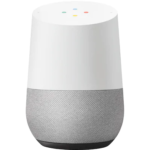 Google Home is intelligent and a true allrounder in its functions. This smart speaker is in rapid development and Google obviously wants this product to succeed. It is still NOT at the level of the Amazon echo – but the gap is getting smaller. There is not the alignment to the Google products that you would expect from Google – however, it must be a matter of time until that has changed.
HomePod is a breakthrough speaker that adapts to its location and delivers high-fidelity audio wherever it's playing. Together with Apple Music and Siri, it creates an entirely new way for you to discover and interact with music at home. And it can help you with everyday tasks — and control your smart home — all with just your voice.